10 Bible Study Tips for Beginners
AmazingWords
·
October 18, 2023
10 Bible Study Tips for Beginners
Overview
Why Bible study is important
Bible study is a vital part of growing in your faith and deepening your understanding of God's word. It allows you to develop a personal relationship with God and gain wisdom for navigating life's challenges. By studying the Bible, you can discover the truth, find guidance, and gain a deeper appreciation for God's love and grace. Whether you are a beginner or have been studying the Bible for years, these 10 Bible study tips will help you get the most out of your time with God.
Benefits of Bible study
Bible study offers numerous benefits for you as a beginner. It provides a deeper understanding of God's word and helps you develop a closer relationship with Him. Through Bible study, you can gain wisdom, guidance, and encouragement for your daily life. It also allows you to connect with a community of believers and learn from their experiences. Additionally, Bible study can provide comfort, hope, and peace in times of difficulty. By studying the Bible, you can grow spiritually and gain a stronger foundation for your faith.
Getting started with Bible study
Bible study is an enriching and transformative experience that can deepen your understanding of God's word and strengthen your faith. Whether you are a beginner or have been studying the Bible for years, here are 10 tips to help you get started on your journey of discovering the treasures within the pages of Scripture:
Set aside dedicated time: Find a quiet and comfortable space where you can focus on reading and reflecting on the Bible.
Choose a Bible translation: Select a translation that is easy for you to understand and resonates with you.
Start with the Gospels: Begin your study with the four Gospels (Matthew, Mark, Luke, and John) to learn about the life and teachings of Jesus.
Use a study guide: Utilize a study guide or Bible study app to provide structure and guidance in your study.
Pray before you start: Seek God's guidance and ask for His wisdom as you dive into His word.
Take notes: Jot down key verses, insights, and questions that arise during your study.
Join a study group: Consider joining a Bible study group to learn from others and engage in meaningful discussions.
Apply what you learn: Apply the principles and teachings from the Bible to your daily life.
Stay consistent: Make Bible study a regular habit by setting aside a specific time each day or week.
Be patient and open-minded: Remember that studying the Bible is a lifelong journey, and it's okay to have questions and seek understanding along the way.
Choosing the Right Bible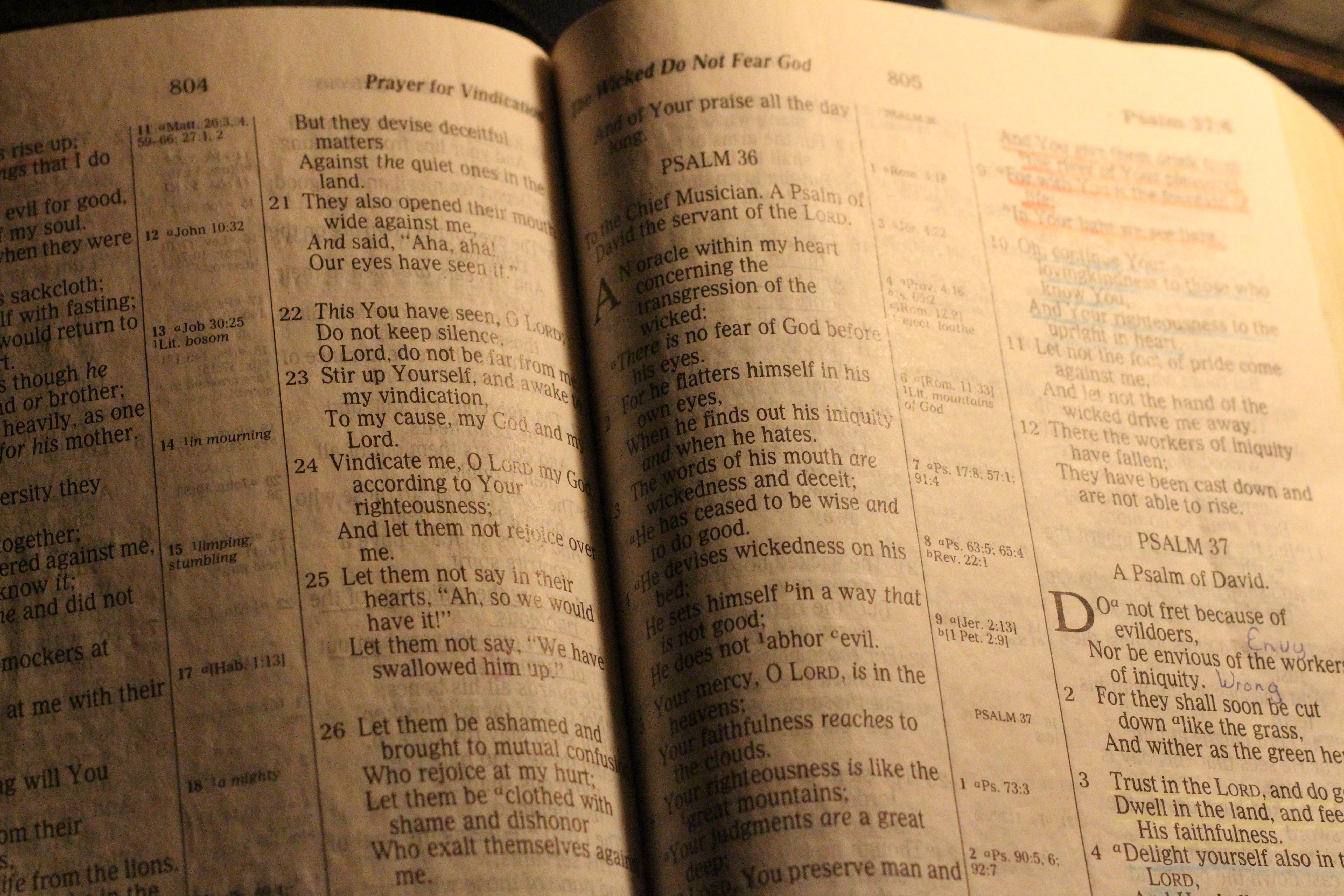 Understanding different Bible translations
When it comes to studying the Bible, it's important to understand the different translations available to you. Choosing the right translation can greatly impact your understanding of the text. Some translations prioritize accuracy while others focus on readability. To help you make an informed decision, here are a few tips:
Research the different translations and their philosophies
Consider your purpose for studying the Bible
Consult with trusted sources for recommendations
By taking the time to understand the different translations and their strengths, you can enhance your Bible study experience and gain a deeper understanding of God's word.
Considerations when choosing a Bible
When embarking on your Bible study journey, it's important to consider a few key factors. Firstly, translation is crucial. Look for a version that is easy to understand and resonates with you. Secondly, consider the study aids available. Some Bibles come with helpful commentary, maps, and concordances to enhance your understanding. Thirdly, think about the format that works best for you. Whether it's a physical Bible or a digital version, choose one that is comfortable for your reading preferences. Lastly, take into account the purpose of your study. Are you looking for a Bible for personal devotion or for group discussions? Understanding your goals will guide you in selecting the right Bible for your needs.
Recommended Bibles for beginners
When starting your Bible study journey, it's important to choose a Bible translation that is easy to understand and accurate. Here are a few recommended Bibles for beginners:
| Bible Translation | Description |
| --- | --- |
| New International Version (NIV) | A modern and widely used translation that balances readability and accuracy. |
| English Standard Version (ESV) | Known for its word-for-word accuracy, this translation is great for in-depth study. |
| New Living Translation (NLT) | This translation focuses on making the text clear and accessible, making it ideal for beginners. |
These translations provide a solid foundation for your Bible study and will help you engage with the Word of God more effectively.
Creating a Study Plan
Setting goals for your study
Once you have established a regular Bible study routine, it's important to set goals to guide your study. Setting goals can help you stay focused, motivated, and organized. Here are some tips for setting goals for your Bible study:
Define your purpose: Start by identifying why you want to study the Bible. Is it to deepen your faith, gain a better understanding of scripture, or apply biblical principles to your life?
Choose a study method: Decide on a study method that works best for you. This could be reading through the Bible chronologically, studying a specific book or topic, or using a study guide.
Set a schedule: Determine how often and for how long you will study. It's important to be realistic and consistent with your study schedule.
Track your progress: Keep a study journal or datebook to record your thoughts, insights, and questions as you study. This will help you reflect on your journey and track your growth.
Seek accountability: Find a study partner or join a Bible study group to hold you accountable and provide support and encouragement.
Remember, the goal of Bible study is not just to gain knowledge, but to apply God's Word to your life and grow in your relationship with Him.
Choosing a study method
When it comes to Bible study, there are various methods you can choose from. Each method has its strengths and weaknesses, so it's important to find one that works best for you. One popular method is the inductive study method, which involves carefully observing the text, interpreting its meaning, and applying it to your life. Another method is the verse-by-verse study, where you go through the Bible one verse at a time, analyzing its context and studying the original language. If you prefer a more structured approach, you can try the topical study method, which focuses on specific themes or topics. Whatever method you choose, remember that the goal is to deepen your understanding of God's Word and apply it to your daily life. Students on tap can find these methods helpful in their journey of Bible study.
Scheduling your study time
Now that you have set aside dedicated time for Bible study, it's important to make the most of it. Create a schedule that works best for you and stick to it. Whether it's early morning or late evening, find a time when you can focus without distractions. Consider setting a reminder on your phone or using a planner to help you stay organized. Find a quiet place where you can study without interruptions. It could be a cozy corner in your home or a local library. If you prefer studying outdoors, find a peaceful park or garden. Remember, the goal is to create an environment that allows you to fully immerse yourself in the Word of God. Eliminate distractions by turning off your phone or putting it on silent mode. Close any unnecessary tabs on your computer and resist the urge to check social media. By removing these distractions, you can give your undivided attention to studying the Bible. St. Peter Indian Mission is a great resource for finding study materials and connecting with other believers who are also on their spiritual journey.
Effective Study Techniques
Prayer and meditation
To deepen your understanding of the Bible and connect with God on a deeper level, prayer and meditation are essential practices. Prayer allows you to communicate with God, expressing your thoughts, desires, and concerns. It is a way to seek guidance, find comfort, and build a personal relationship with Him. Meditation, on the other hand, helps you quiet your mind and focus on God's presence. It allows you to reflect on His word and receive spiritual insights. By incorporating prayer and meditation into your Bible study routine, you can create a sacred space for your spiritual journey from South Korea to Grand Island.
Taking notes and highlighting
Now that you have learned how to effectively read the Bible, it's time to take your study to the next level by taking notes and highlighting important passages. Not only does this help you remember key points, but it also allows you to easily reference them later. One of the benefits of studying Greek and Hebrew is that it gives you a deeper understanding of the original text. When taking notes, consider using a combination of tables and lists to organize your thoughts. Tables can be useful for comparing different passages or making connections, while lists can help you outline key concepts or questions. Don't be afraid to get creative with your note-taking methods, as long as they work for you and aid in your understanding of the scriptures.
Engaging in group discussions
When participating in group discussions during Bible study, it is important to actively listen to others and contribute your own insights. FYI, group discussions provide a valuable opportunity to learn from different perspectives and deepen your understanding of the Bible. To make the most of these discussions, consider taking notes, asking questions, and sharing personal experiences related to the topic. Remember to be respectful of others' opinions and create a welcoming environment where everyone feels comfortable sharing their thoughts.